---
HSF Weekly Meeting #173, 17 October, 2019
Present/Contributors: Graeme Stewart, Eduardo Rodrigues, Andrea Valassi, David Lange, Attila Krasznahorkay, Agnieszka Dziurda, Chris Jones, Daniel Elvira, Witek Pokorski, Stefan Roiser, Serhan Mete, Liz Sexton-Kennedy, Mark Neubauer, Kyle Knopfel, Nikos Kasioumis
Apologies: Pere Mato, Caterina Doglioni
News and General Matters
Working Groups in 2020
We discussed the future of working groups in 2020 in the coordination group
The decision was that for the current appointed groups we allow convenors to carry on for another year, as we are very pleased with the outcomes of the groups

Most convenors have said yes to this proposal (thank you very much!)
However, Danilo (Analysis) and Heather (Simulation) have had to step down, due to other commitments
We shall therefore call for nominations to replace them

We also decided that the nomination and appointment process is a successful one and that it should be used more consistently for working groups from now on

So we are also going to call for nominations for convenors in the following groups

PyHEP
Software Tools and Packaging
Physics Event Generators
Training

Current, active, convenors in these areas are stongly encouraged to be nominated, including self-nomination
Note that we decided that Software Tools and the Packaging group can be usefully merged into one
Three convenors are sought for each group

Areas where the HSF activity has been more sporadic and informal will be rebadged as Activity Areas

These will not have formally appointed convenors, but carry on with the input from motivated members of the community
This type of activity is very much encouraged when people would like to start a new interest group (evolution to a working group would be possible, in time)
At the moment we propose that Visulaisation and Quantum Computing become activity areas

Timeline:

Call for nominations next week until mid-November (post CHEP)
Comments for the community for ~2 weeks after that (end November?)
Appointments to be made in December, if we can, for 2020

These will be as now, 1 year, renewable

Meeting approved this plan
Post-JENAS Meeting
As discussed in previous HSF coordination meetings & announced on the mailing list, Caterina organised a meeting with the Nuclear, Dark Matter, Astroparticle communities as a follow-on from the JENAS Workshop

We presented an overview of the HSF
Followed by contributions from nuclear, neutrino, dark matter and ESCAPE communities

HSF-ESCAPE interaction encouraged by APPEC in this context

Very much a first getting to know you meeting
The level was quite senior
Feedback was positive, but not immediately clear how to take next steps
Two interesting concrete things came from the discussions with ESCAPE

Training event at LAPP that HEP could be involved in
Software directory that is being built as a deliverable for ESCAPE and could be promoted for HEP software projects

Caterina and Graeme are thinking we can probably continue interactions at the Lund workshop next year, inviting a few key people (not that we do nothing else untl then!)
Activity and Working Group Updates
Detector Simulation
Next meeting will be on Dec 4th due to CHEP and other experiments' meetings between now and then. We plan it will be on feed-back on use of new geometry tools by experiments. We will contact them soon to fix the agenda. For first meeting next year we would like to invite non-LHC experiments.
There was a GeantV dedicated meeting on Tuesday. There will be a formal write-up of the results obtained. At the end Pere Mato and Philippe Canal presented directions for future activities. We should follow this up regularly next year.
Directions on accelerators are now interesting. Will the GeantV group look at this? No, it will be done with new R&D projects. We know that this is hard and will require new approaches.
Geant Exascale project is exploring this area.
Contact between ORNL and CERN recently
Reconstruction and Software Triggers
Next meeting, targeting "Algorithmic approaches and data structures to efficiently exploit many-core architectures" moved from 9th October to "after CHEP" due to unavailability of the speaker.
In case you missed it, there was a TAU talk last Monday (monitoring tool)
To be followed up with a hands-on session, most probably will take place on January 20th at CERN:

Imperative to focus on HEP use cases.
It might be nice to give priority to accelerator related examples.
Please let us know if you have a workload that you'd like us to focus on.
PyHEP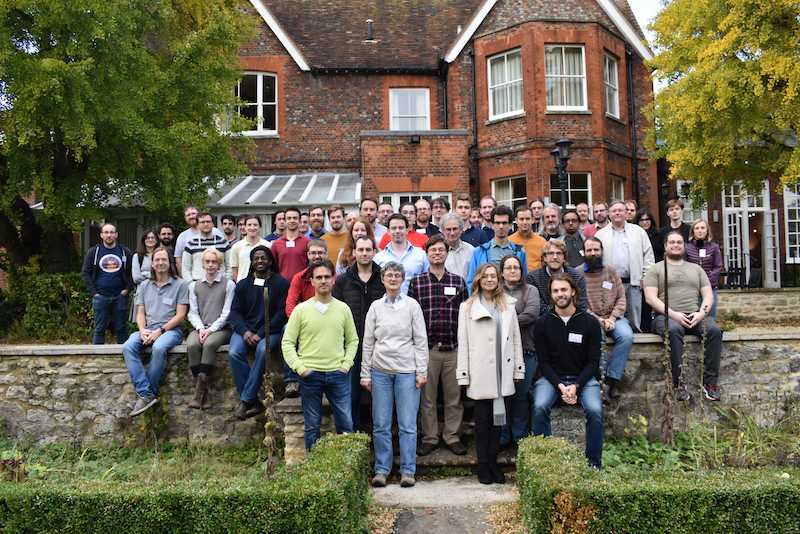 Frameworks
Will have a meeting next Wednesday. Plan to have presentation from DUNE. Workflow is quite different from HEP collider experiments. Speaker TBC.
Training
A lot of progress in organising the event
Registration opens tomorrow…
Advertise this also via HSF lists, particularly to call for helpers
Event Generators
No meetings yet after the summer
Have not pinged or heard back from the Argonne team working on Madgraph on GPUs
Josh McFayden is working on a setup to allow standalone runs of several generators, which eventually may be incorporated into the HEP-workloads benchmarking suite using Docker containers
Steve Mrenna will give an overview of activities at the Latin American workshop in Mexico
Packaging
Meeting last week had a very useful discussion on best practices for package relocatability from Ben Morgan
There are a few packaging contributions we know of at CHEP
Plan to have another meeting before the end of the year
Workshops
Next HSF/WLCG Workshop
Caterina is offline today, but happy to start the discussion on progress with logistics, program… if we want a dedicated kick-off meeting that we then summarize, we could do next Thu in the HSF slot?

Will poll on coordination list
We need to setup an IOC
Pre-CHEP, Analysis Systems: From Future Facilities to Final Plots (2-3 November)
Event is now very well planned
Just putting the finishing touches to the interactive sessions to try and get these to go smoothly

All topics have confirmed animators to help the discussions
We will try to have group 'coordinators' (someone who guides the smaller group writing process and discussion)
We will circulate information shortly to all participants so that people know what to expect
Latin American Workshop on Software and Computing Challenges in HEP (Mexico, Nov 20-23)
Good attendance expected (32 people registered): Latin American PIs, international speakers, students
Workshop URL https://indico.cern.ch/event/813325
Giving final touches to the agenda
We are missing three important topics/speakers:

Detector simulation (Pere, any progress identifying a speaker? HSF simulation converners consulted, possibility of a CERN speaker)
Reconstruction (IRIS-HEP will support travel if speaker is US-based). D. Lange, P. Elmer, G. Watts trying to find a suitable speaker from an NSF-funded institution. Alternatively, Giuseppe Cerati is available and willing to do it.
"HPC lanscape for science applications". We are trying to get someone from Oakridge. Not clear we will succeed. Ideas?

Everyone: you still have time to register and attend! Excellent opportunity to network with Latin American collaborators.
AOB
We experimented with switching to CERN's collaborative Markdown editor, CodiMD, for the meeting minutes this week

More convenient to write notes in the format needed by the website than to have to convert from Google Docs
Unfortunately it seems that lightweight accounts cannot edit these documents on the CERN service
Options:

Get CERN to allow lightweight editing
Switch back to Google Docs
Use the CodiMD demo service, e.g. with a note like this one

Notes can be set to be editable by anyone at all (freely) or by logged in people (editable) - to login a GitHub account can be used

Nikos (CERN IT): want to understand the needs

In a nutshell, we have HSF people who do not have full CERN accounts, so we do need something that everyone can contributed to
Federated identity is advancing fast - eduGAIN would be an option, as all of our people should have institutional credentials of some kind

Next coordination meeting…

CHEP is very soon, do people want to have a meeting on 31 October? Or wait till afterwards, 14 November
Agreed next meeting is after CHEP
---